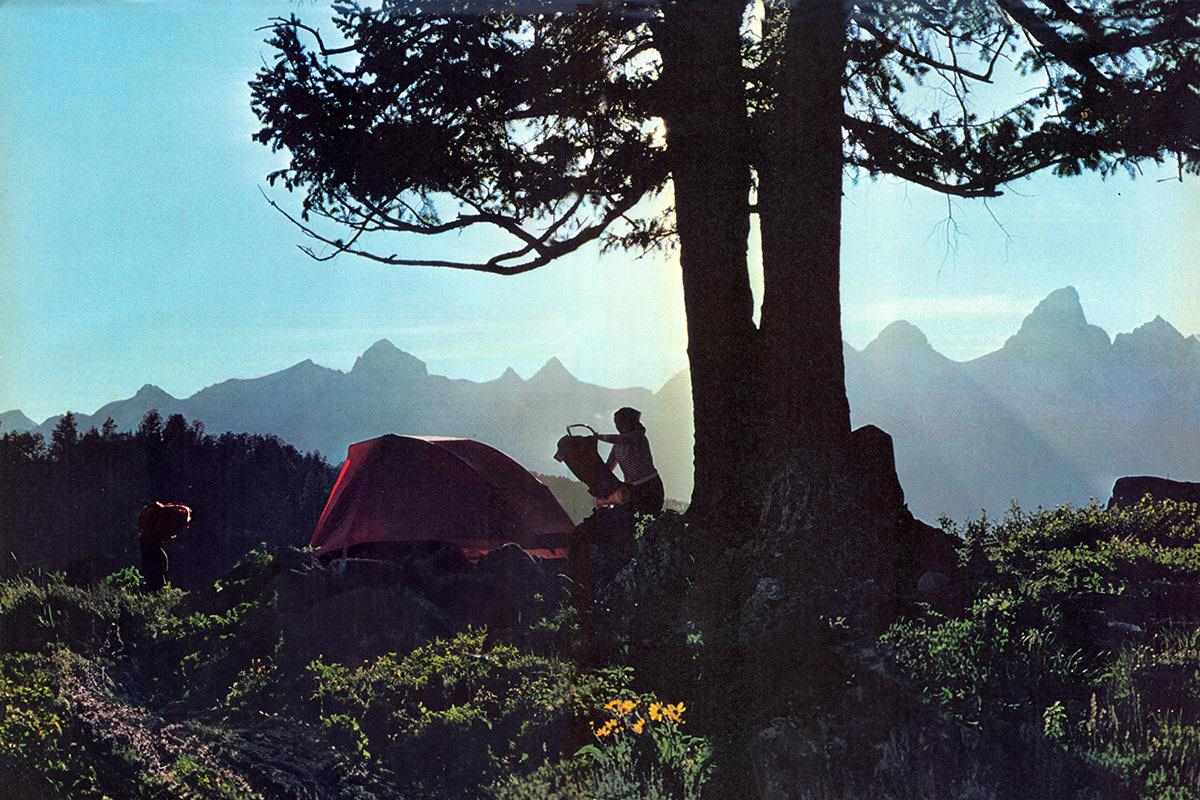 July 17, 2023
By Erwin A. Bauer
Editor's note: Flyfisherman.com will periodically be posting articles written and published before the Internet, from the Fly Fisherman magazine print archives. The wit and wisdom from legendary fly-fishing writers like Ernest Schwiebert, Gary LaFontaine, Lefty Kreh, Robert Traver, Dave Whitlock, Al Caucci & Bob Nastasi, Vince Marinaro, Doug Swisher & Carl Richards, Nick Lyons, and many more deserve a second life. These articles are reprinted here exactly as published in their day and may contain information, philosophies, or language that reveals a different time and age. This should be used for historical purposes only.
Daybreak was still just a faint promise in the east, and no other campers were stirring when Peggy and I departed the public campground trailhead and trudged steadily upward on a steep and switchbacked Forest Service trail. As elsewhere in the northern Rockies, this path wound for miles through dark lodgepole-pine forests, and it was almost midmorning before we could see the first shafts of golden summer sunlight. Our route was not as well marked as some; a careless hiker might easily have wandered astray on any of the big-game tracks that laced that evergreen high country. Only the bleeding blaze marks on trees indicated the right way from the old elk tracks.
Advertisement
Early in the afternoon, when our hips and shoulders complained too much about our loaded backpacks, we paused long enough for a light lunch of raisins, nuts and chocolates. An hour later, when the packs felt twice as heavy as in the beginning, we reached a place where forest gave way to a glacial moraine. It was like suddenly emerging into another, brighter world.
On our right a yellow-bellied marmot whistled in alarm and raced for cover underground. Another watched us suspiciously. A hundred yards farther on we reached the crest of the moraine. Beyond and below us a necklace of exquisite blue and green alpine lakes glittered as a vagrant, summer wind brushed across them. I have seen my share of mountain panoramas and mountain lakes, in sunshine and in gloom, and I am always thrilled by them. This one was no exception, so we unbuckled the packs and without a word exchanged, sat down to enjoy it.
But all at once the spell was broken. When the wind died, we could see trout rising furiously on the nearest of the lakes. Our tired, aching muscles and our twenty­five-pound packs were forgotten.
What followed was a too-hasty scramble down a loose-gravel slope to the nearest shoreline. Once near the lake, the packs came off and camping gear was scattered over damp grass and wildflowers in order to find the fly reels and fly hooks that had been hastily tucked inside a rolled-up tent. Peggy, who is both more calm and more dexterous than I·am, rigged up faster and hooked a fish before I had even knotted an Adams onto my leader.
"Come over and help me with this trout," she pleaded. She really didn't need the help. The trout was a squaretail of about two pounds that bored for the bottom of the lake. Even when it was deep, the brook trout's white-edged fins were visible–the water was that clear.
Video That May Interest You
Carefully Peggy coaxed it closer to the rocky shore where I could reach it with both hands and flip it out of the water. To me all wild trout are extremely beautiful, but I have seen very few to match the delicate, salmon­silver color of this deep-bodied alien to the Rockies. I cached the fish in a lingering snowbank for dinner while Peggy went back to casting.
What followed that extraordinary summer day was an hour or so of fly-fishing we are not likely to ever forget, even though we manage a lot of it in similar alpine places. The trout, some black-spotted cutthroats as well as squaretails, were willing– no, eager–and it made no difference what kind of hair or fluff we cast. No delicate delivery was necessary, no hatch matching. We easily hooked a dozen or more and released all but two. Beside our lakeshore camp that evening, we salted and broiled them over a small fire before going to bed. Here was a lake, connected to several others, just seven miles (or a modest day's hike) beyond a trailhead. And the trailhead is along a paved U.S. highway. I will not name the lake or give its location, except to say that it is in Montana. The place could not stand an immense amount of fishing pressure at any one time, and besides, there are thousands of such lovely alpine lakes in the American West. In some the fishing is a lot better. But I will report that we did not meet another angler at the lake or en route to it, and the only evidence of other recent visitors was the charred circle of rocks that we used for our own fire.
Some of the least-exploited fly-fishing exists today in the most spectacular mountains of America. True, it may not be the wonderful trout fishing of the Yellowstone, Madison or Henrys Fork, but these rivers become congested at times and are perhaps too popular. Also, the trout in these alpine lakes are never natives: They have been introduced by a variety of means, ranging from stocking fingerlings carried in milk cans on horseback to plantings by helicopter. But cutts and brookies especially have adapted widely and can be considered wild. The fly fisherman who relishes peace, beauty, escape and adventure with his angling should make a date with some lonely mountain lake.
Keep firmly in mind that the best of these lakes are seldom easily accessible, most being deep within national parks or our precious wilderness areas. You reach them only on foot or by horse. I'm not opposed to riding horseback when I get the chance, but to Peggy and me, this is really backpacker's country. To get there and enjoy it, you must have a certain amount of equipment, and you must not mind walking. The techniques of taking trout from mountain lakes are described elsewhere in this issue, so I will discuss only the backpacking gear here.
The proper selection of tackle the fly fisherman should pack along with him can pose problems to the beginning fly-rod backpacker. For a detailed discussion of selecting fly tackle for backpacking, see Dave Engerbretson's article, ("Backpack Your Fly Rod," in the Mid-Season, 1978, issue of FLY FISHERMAN (Vol. 9, No. 6). THE EDITORS.
Not too long ago, backpacking was the province of the truly determined outdoorsman who didn't mind suffering and lugging a pack weighing more than fifty pounds to the most isolated places he could find. He had to be young, have a linebacker's legs and, some claimed, be slightly dimwitted.
But all that has changed radically in the past few decades. Aside from the proliferation of hiking trails in the national parks, national forests and other public lands, which makes the going easier, there has been a revolution in backpacking equipment. All the necessary gear, including food and shelter, weighs only a fraction of what it did two decades ago. Nowadays, when you go backpacking, the others you will meet will range from teenagers to senior citizens. And a large percentage of them will be fishermen.
The first step for the beginner is to choose from among the bewildering variety and amount of camping and packing equipment for sale today. It is important to have proper gear to start out, and the gear is not necessarily very expensive.
Consider footwear first, because nothing else, not even the pack, is more important when you're pounding those steep, rocky trails. Any serviceable used boots you have that are comfortable on long, hard hikes are satisfactory. Don't switch. But if you're starting from scratch, think seriously about a pair of the now-standard, "waffle-stomper" hiking boots. Originally developed in Europe for alpine hiking and climbing, these boots are meant to give maximum support to ankles and arches. They lace from the toes to the ankle-high tops and have fairly stiff, lugged, Vibram soles. The leather, which may be padded, is shaped to hold the foot snugly; you should choose boots with leather heavy enough to protect the entire foot when traveling over rough ground. A hiking boot superficially resembles a mountain climber's boot, but it is neither as heavy nor as stiff.
Next in importance to footwear is choosing the pack. First consider your own personal needs. Are you going to overnight on the trail? One night only or several? Are you planning any very long wilderness trips? Will you go alone, or with friends or your wife to share the load?
For day hiking only, a nylon or waterproof cotton­synthetic bag known as a daypack is sufficient. Day­packs provide enough space to tote a rain parka, lunch, knife, matches, suntan lotion, insect repellent, camera and so on. Daypacks can be multi-purpose, being able to be used also for biking, fishing, hunting, or cross­country skiing. They range in price from about $8 for the simplest to about $25 for those with zippered side pockets and large capacity. Beltpacks– light carriers that fit around the waist–are also adequate for day hikes; some have compartments and adjustable waistbands and can hold lots of gear.
Backpacks differ from daypacks in that they have the capacity to carry enough supplies for you to be self-sufficient for one or more nights. That means that backpacks can hold all essential gear: food, stove, mess kit, tent, sleeping bag, first-aid kit, survival kit, toilet items, knife, map and compass, extra clothing, raincoat and some nonessential items such as camera and field guides.
Backpacks have become fairly standardized, with two choices: the more popular external, aluminum-tube frame with the carrier bag that fits onto it, and the internal-frame pack in which the frame, usually flat, fits inside the bag. The latter packs are called body packs or mountain rucksacks and are more popular with mountaineers and cross-country skiers than with backpackers. The pack itself–the nylon, water-repellent bag that attaches to the aluminum pack frame–often comes in two styles: packs that are divided into two or more internal compartments and those that have a single, large pocket.
During the past few years backpackers have started carrying more weight on the hips, which is usually much easier to tolerate than weight on the back and shoulders. A wrap-around hip belt on which the frame rests transfers weight from the back and shoulders to the legs, which usually are stronger. Some pack frames are now built with padded waistbands, which are preferable to unpadded waistbands, and a good pack frame will also be adjustable to properly fit the individual's body.
If you are buying your first pack and plan only normal summertime camping trips of a week or less in which you will be carrying less than thirty pounds, a frame that puts most of the load on the hips is preferable. But carrying heavier loads than that on the hips will probably cause undue fatigue.
When choosing a pack, load the pack with heavy items handy in the sporting-goods store, say twenty to twenty-five pounds of stuff, because any sack can feel good empty. Wear it full for awhile and walk around. If possible, climb some stairs. Granted, that does not duplicate how a pack feels after a few hours on an uphill trail, but it does provide a basis for comparison with other packs similarly loaded.
A brief word about beds, another important item. Mattresses come in foam pads or inflatables. (I'll take foam every time because it can't deflate during the night.) For summer backpacking you may choose either a down-filled sleeping bag or one of the synthetic-fiber filled bags on the market today. Down is lighter, warmer for the weight, but it is more expensive, and once it's wet it no longer insulates the sleeper. My vote is for a less costly synthetic-filled bag. But be sure to actually get inside any bag before you pay for it. Make sure you have plenty of room and don't feel "trapped" inside.
Although backpacking to fly fish the high lakes is a rich, rewarding combination difficult to match, it has its share of problems and pitfalls. Not the least of these is fitness. Your lungs and legs must be in shape for hiking, perhaps at higher altitudes than you are accustomed to, and you must get used to a modest load on your back. Before embarking on any fitness program, check with your physician and explain to him how you are going to train, and why you are doing it.
Sometimes the weather in the high mountains is not the best, and you may spend as much time in your tent as you spend fly casting. But when summer squalls do pass, they leave behind glittering, crisp days that are difficult to describe. You live ten days a week and hope the week will never end.
In more northern mountain ranges, fishing seasons can be very short. There some of the highest lakes are not ice-free until July, and to reach them you may have to climb across snowfields that obliterate the trails. Still, there is a special dividend for going early. Not until the tag end of summer will trout again strike as they do during the first weeks after ice breakup.
Although I have found alpine fishing to average far faster, day in and day out, than anywhere else, it can be frustrating. Trout striking with crazy abandon may suddenly stop–and then start again later. Some evenings the fishing may be ridiculously easy, and as a result I have known more than one lukewarm hiker to become a hard-core, backpacking fly fisherman for life. But fishing can also be impossible at times. Winter kills of complete fish populations are not unusual for a lake, or a whole chain of lakes, during a severe winter. But that's a problem that fisheries biologists can quickly correct with stocking programs.
There are a lot of Promised Lands for fly fishermen in the lonesome, alpine landscapes of the West. For beauty and background alone, no other fishing spots I've found can match them. A backpack and hiking shoes are all any angler needs to enjoy the high country.
A Brief Guide to Western High Lakes
California
Lassen Volcanic National Park in northern California contains fishable lakes, all accessible by well-marked hiking trails. Trout are brookies, rainbows and browns. Because of access roads, hikes to lakes are short, making this an ideal place for the inexperienced backpacker to begin.
Convenient campgrounds and trailheads are located near Summit Lake on Lassen Peak Highway (Route 89); at Horseshoe Lake, reached via Warner Valley Road from Chester; and at Bathtub Lake south of Route 44 (north of the park). A booklet, "Fish and Fishing in Lassen Park," can be obtained at Park Headquarters, Mineral, California 96063.
The High Sierra of central California is punctuated with alpine lakes for fishing backpackers. Many of the best and most scenic are within reach of the John Muir Trail (and its connecting links) that roughly follows the Sierra Divide from Yosemite National Park southward through Kings Canyon to Sequoia National Park, a distance of about 350 miles. From the north end near Hetch Hetchy Reservoir or Yosemite Valley, to near Mt. Whitney and the trailhead at Whitney Portal near Lone Pine (on Route 395), an angler would travel within a mile or so of more than 500 fishing lakes.
There is access to points along the John Muir Trail from the following popular trailheads: to Grays Meadow from Independence; to Glacier Lodge from Big Pine; to Lake Sabrina from Bishop (junction of Route 395 and U.S. 6); to Rock Creek Lake, Convict Lake and Mammoth Lakes from near Casa Diablo, from several points along the trans-Sierra Tioga Road (Route 120), from near Giant Forest (Sequoia), from the South Fork of the Kings River Road (Route 180), and from the Fresno Road to Lake Edison.
The best guide to exploring the High Sierra is a Sierra Club Tote-Book, "Starr's Guide to the John Muir Trail and the High Sierra Region," available with map for $3.95 from the Sierra Club, 1050 Mills Tower, San Francisco, California 94104.
Montana
There are more high-country opportunities for backpacking anglers in Montana than anywhere else except California, but in this state a hiker will meet fewer fishermen.
In Glacier National Park alone there are hundreds of lonely lakes, most interconnected by a splendid 1,100-mile trail network, possibly the finest in any one national park. Some lakes are seldom fished.
Hikers reach the backcountry via numerous trailheads, all well marked, from along the Going-to-the-Sun Highway (especially at McDonald Falls and Logan Pass), from Many Glacier via Babb (U.S. 89) and Kintla Lake Campground, and from Two Medicine via East Glacier (U.S. 2 and 49). The most magnificent mountains and much of the best fishing are in the northern half of Glacier Park and in Canada's adjoining Waterton Lakes National Park. A "Hiking Trail Map of Glacier National Park" by Gingery and Wilhelm, obtained at Park Headquarters, West Glacier, Montana 59936, or any roadside ranger station is useful.
Generally north of the Cooke City-to-Red Lodge Highway (U.S. 212) is the Beartooth Primitive Area, covering parts of the Custer and Gallatin national forests. Amid awesome landscapes are some 300 lakes that contain cutthroat, brook, rainbow and golden trout.
There are many jumping-off points to the Beartooth backcountry, such as the steep gravel road, just east of Cooke City, to Goose Lake. Other trails lead to Daisy Pass, to the abandoned Tanzer Mine and to Lake Abundance. A good hiking trail into the heart of the Beartooth area begins at Crazy Creek Campground on the Red Lodge Highway. Other trails fan out from Beartooth Butte and Beartooth Lake, which is about 9,500 feet high. A helpful trail map and brochure, "Beartooth Country," can be obtained from the Superintendent, Custer National Forest, Billings, Montana 59101.
There are many other mountain fishing areas in Montana, such as the Beaverhead National Forest and Spanish Peaks of southwestern Montana, and the Mission Mountains (Flathead National Forest) in the northwest.
Wyoming
This Rocky Mountain state is liberally dotted with hundreds of alpine lakes in the Wind River Mountains, more specifically in the Bridger Wilderness Area and the Popo Agie Primitive Area on opposite sides of the Continental Divide. A whole summer would not be long enough to sample all the remote fishing waters in the 200 square miles of wilderness here. Trails generally are good.
Access to the Wind River Mountains begins in two places: from Lander on the east side and from Pinedale on the west side of the Divide. From Lander, Route 131 leads to The Sinks and a cluster of campgrounds from which trails branch up various forks of the Popo Agie River.
From Pinedale, unpaved car roads lead to a necklace of larger lakes–Willow, Soda, Fremont, Half Moon and Burnt Boulder–all with established campgrounds where base camps can be set up. Then trails continue to other waters. The main artery of the Bridger Wilderness, called the High Line Trail, roughly parallels the Continental Divide.
A "Forest Visitor's Map of the South Half," a trail map of the Bridger and Popo Agie areas, can be obtained free from the Shoshone National Forest Supervisor, Box 961, Cody, Wyoming 82414. An excellent detailed fishing/hiking guide is "Wind River Trails" by Finis Mitchell, available for $3.95 from the Valley Shop, Box 1209, Jackson, Wyoming 83001.
Idaho
Here is a good bit of remote mountain fishing, but a proliferation of lumber and mining roads have made much of it very accessible by means easier than hiking. You might labor up a formidable trail to a lonely lake, only to find a jeepload of campers already there. One sector still road­ less is the Sawtooth Primitive Area, roughly west of U.S. 93 between Stanley and Sun Valley. Here are hundreds of lakes with cutthroat trout.
There are two major points of entry to the Sawtooth Area: Redfish Lake and Alturas Lake, with campgrounds in both spots to park a car.
For detailed information on fishing and backpacking in the Sawtooths and other similar areas in Idaho write to the Supervisor, Sawtooth National Forest, 1525 Addison Avenue East, Twin Falls, Idaho 83301, for a free copy of "Guide to National Forest Recreation in Southern Idaho."
Washington
Olympic National Park in the extreme northwest corner of the state contains good fishing lakes and the headwaters of many trout streams, all connected by maintained trails. But the summertime climate is likely to be very damp. Still, it's beautiful country.
Also very cool and moist at times is the North Cascades National Park. Mountain lakes are numerous here, but not all of them contain trout. For information, write Headquarters, Olympic National Park, Port Angeles, Washington 98362, and North Cascades National Park, Sedro Woolley, Washington 98284.
Utah
The only major range of mountains in the U.S. with an east-west axis are the Uintas of northeastern Utah. Some of the 100-odd lakes contain Montana grayling as well as trout. The heart of the Uinta Primitive Area can be reached from Roosevelt or Fort Duchesne to the Wasatch National Forest boundary, where roads end and trails begin. A forest trail map is available from Wasatch National Forest Supervisor, 4438 Federal Building, Salt Lake City, Utah 84111.
Colorado
Scattered fishing waters can be reached by hikers in the San Juan National Forest near Durango, in southwestern Colorado east of U.S. 550 and north of U.S. 160. One main access trail leads eastward from near the Purgatory Winter Sports Area on U.S. 550. But a more scenic trail begins at Vallecito Reservoir, and another starts near the Granite Peaks Campground, both south of the main San Juans. Some information can be obtained by writing the U. S. Forest Service, 11177 West 8th Avenue, P. 0. Box 25127, Lakewood, Colorado 80225.